Young but very much in love and looking forward to our future together
A lot of fans of the show ask "how did we meet". Steve and I met 43 years ago and were married on the 13th August 1983. We were actually introduced by a friend of mine and to be honest at first I was very unsure. Steve was a bodybuilder at the time and spent a lot of time in the gym. If the truth be known, I always preferred a chunky monkey rather than a muscle man. However, our personalities, just clicked.
We courted for 3 years, yes, back in the day you courted each other. Not a sentence, I am sure you will agree, we hear nowadays, unfortunately. During those 3 years, we had our trials and tribulations, building a relationship and getting to know each other. One thing that I do remember well is the long conversations we had together, about the future.
Our expectations, our dreams, our wishes and from very early on, we both always agreed, that we needed a goal to work towards. I remember one of the conversations, Steve said, "I would like to have a Porsche parked on the drive by the time I am 50". Hearing that made me really happy, as it meant he had drive and ambition. I replied, "If you work hard enough for it, it will happen".
Reality hit home
Married in 1983 on a shoe string and with no help from family apart from my nan. She was my rock and was always by my side. My nan was a remarkable woman, a strong Irish woman who raised 6 children on her own. I always looked up to her and took strength and guidance from her. She lost her leg when she was 8 years old, but nothing fazed her. I remember the night before our wedding, my nan and I went to the local scout hut. This was where we were holding our reception, and we went to set it up.
We walked into the room, stood there for a few minutes, and then I just burst into tears, it was so overwhelming. There was no way just me and my nan could set all this up on our own. There was a woman in the hall called Pauline, she ran the events there. I will never forget her, because I am not sure that I would have made the wedding the next day if it was not for her.
A guardian angel
Pauline put her arms around me and told me to go home. Have a nice warm bath and to get a good night sleep. I had a special day ahead and not to worry. She told me to come back in the morning with everything I had to set up. The following morning I arrived with my nan and Pauline met me with an array of local ladies from the village. She took everything off me and said, "go and get married, and we will see you later"
So the wedding day arrived and it was eventful to say the least.
A wedding day with lots of highs and a few lows
My dad did not turn up to give me away, which is another story. That was not going to stop me marrying my soul mate, so my uncle Eammon gave me away. When it came to our wedding pictures, well, I was sat on grass trying to look all angelic. However, I could not understand where all the flies were coming from. That was until the priest told me the photographer had sat me, where they scatter the ashes! 40 years later, we still talk about it, or should I say Steve laughs about it.
Steve and I arrived at the reception after the ceremony, I was scared to walk in, and I had told him what had happened. We walked into the hall holding hands and wow! I could not breathe. Pauline and the ladies had set the room up beautifully, a top table for us and individual tables for guests. Flowers picked from their own gardens as we could not afford flowers, food prepared and set up as a buffet, it was magical.
The ladies stayed for the reception to make sure it all went well. There is one thing that made my heart melt at that reception. It was seeing Pauline going around the tables with a huge metal industrial teapot, after my nan asked for a cup of tea. It actually brought a tear to my eye. Some brides today would be mortified if that happened at their wedding, for me, it was priceless. I have never forgot Pauline and the ladies on the Wimblebury road for their kindness and for making our day so special.
40 years on and it has not always been an easy ride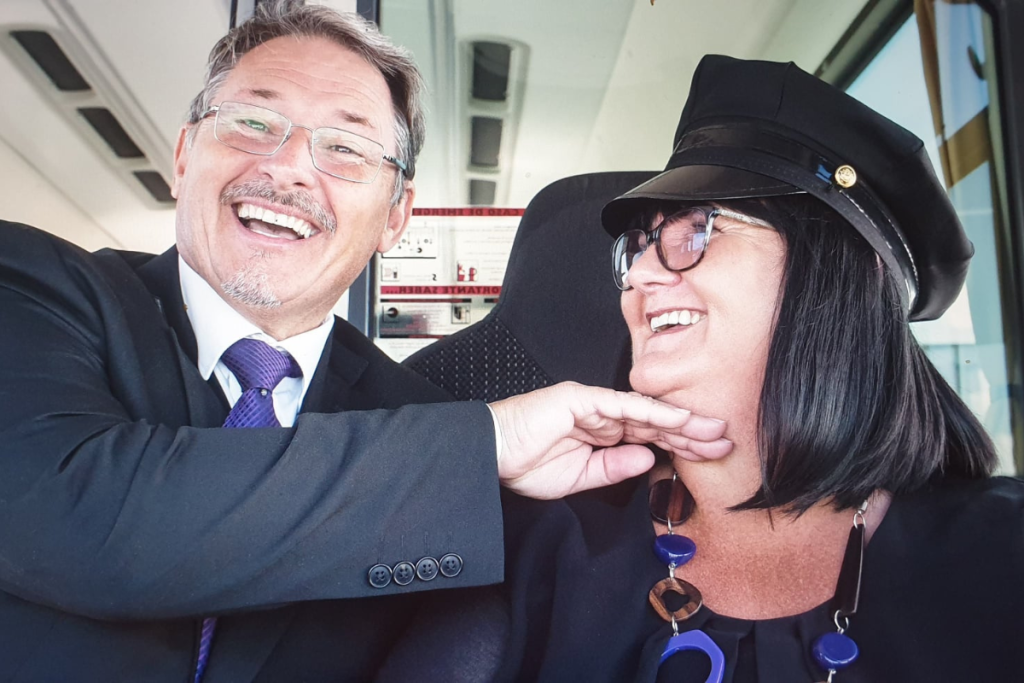 So YES it is 40 years on and we are still going strong. I can't say it has always been an easy ride, for sure, and there have been times we have had to work hard at it. However, Steve has always been there to keep my chin up, or chins should I say 😉 during the hard times. I have always been there to put a smile on his face and support any decisions he has made for our family. We really are a team. As we have got older, our bodies have given into gravity. There are a lot of grey hairs, kept at bay by a colour in a box in my case, but that is called life.
I am so proud of what we both have achieved in the 43 years we have been with each other. Steve and I have raised 2 amazing children, who make us proud every day. Our 2 grandchildren we love and adore and who love us. Son in laws in Matt and Salva are a huge part of our family. Along with an extended Spanish family, who we are blessed to be part of.
We moved to a new country, developed a fantastic business with fabulous staff. Who would have thought we would be part of a popular TV show on Channel 4, Sun Sea and Selling Houses. We have never asked anyone for anything, we have never been giving anything. All we have and have done, we have done together.
We are The Garners and anyone who knows us know, we are a team.
I hope you have enjoyed following our story. More to share with you, so stay tuned.
Love Sharon and Steve x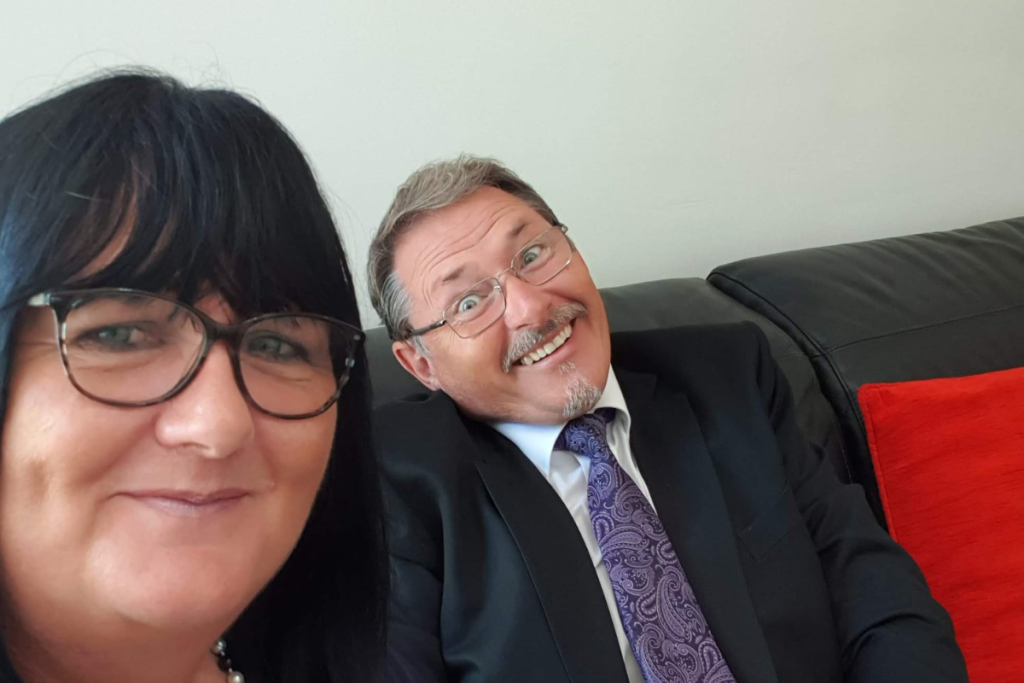 Hi Sharon and Steve,it was lovely to read your story.We bought a flat on the Costa Blanca many years ago and sold it a few years later after spending lots of happy times in.spain.I often look through your website ,my husband not to keen to buy over there again but we may rent one day.We are from Birmingham too, reside in the Isle of Man after living in the middle East for 10 years.You never know we may one day contact you look to rent .It's lovely to know you and your family are in good health.kind regards.

Thank you for following us and your support Sandra, it is very much appreciated x

What a wonderful blog to start my day with. I absolutely love you both and your family. Keep being YOU
as its a pleasure to watch your work and play moments in the programme
Love from Yvette and Jack Belfast Northern Ireland xxxxx

What a lovely story Sharon, you and Steve are such a lovely couple. I hope I get to meet you one day

Omh such a lovely true to life story.you have a great partnership.reminds me so much of my marraige to my late husband.very little money but omg a lovely wedding.dont lnow why but we had recrption outside edinburgh.meal for family.then buffet was pies sausage rolls.had so many our friends were carrying breadboards on the bus back to edinburgh
Xx

Sounds like a fab wedding to me, just my cup of tea 🙂 cant beat a sausage roll 😉 x

Arhh, love this. So nice to hear your story and with all the honesty too. No relationship remains strong unless you work hard together as a team. Wishing you many happy years ahead.

Lovely read, Happy 40th Anniversary, and cheers to many more happy years together.🥂🍾
Collette Kavanagh Ireland.

What a lovely story Sharon, i am so happy you had a special wedding day like that, people were so kind . Many Congratulations to you Both, because it must be more years now,
Just keep on doing what you are doing because you're making a super job of it, Love you all and Love the programme xx <3

Brilliant blog 😍 Lovely to have the personal background stories which make up The Garners!
Looking forward to more!
(When I see the name "Garner" I always thought of those posh pickled onions you see in the supermarkets…no relation I guess?)
🤣

Hahaha no relation, as far as we know that is 😉

Hi Sharon & Steve what a smashing, realistic story. Not all sickly sweet, but loving, fun + honest. We've just hit 30 years this month and we're very proud of that. Marriage is not always easy 🤣.
I love the programme, regularly watch and would love to know when you're back on our screens. All the best Karen + Julian (UK)

Aww thanks Karen, and congrats on 30 years, I personally think we deserve medals hahahaha 😉

What a lovely story I love to watch your program can't wait for another series and you are such a lovely family I live in Stourport On Severn take care and here's to many more wonderful years together lots love to you all xxx😊❤️😊❤️😊❤️

My mom and dad lived in Stourport-on-Severn for many years, and Redstone caravan park was a favourite of ours 🙂

Oh we have stayed at restores many times in the past also lol. Love to watch your programme. I'm from wombourne originally now live in Halesowen near Birmingham. Xxx

Thanks for watching Carolyn 🙂 x

What an amazing blog, just love that you two are so down to earth, and the love you have for each other is so visible. I have been with my husband for 37 years, married 27 of them. We live in Eastbourne on the South Coast. We love your programme with all your family and menagerie. Keep blogging.

Thank you so much for your lovely comments x

What a lovely story Sharon, with all the ups and downs of life. We are from Scotland, and love to watch the show. We sometimes look at various properties on your website. Will be considering renting at some point over there. Wishing you all the best for the future.

Aww,a beautiful story,your just a fabulous family,look forward to reading more. Sending love from Essex 💓

What a lovely story and so truthful warts and all. Wishing you both many more happy years together and all that's good for your lovely family. Dot Nicol

Congratulations to you both . Love the show watch from our home in Roquetas De Mar , looking forward to the next series.

So glad I did the right thing,x
you made it all these years. Here's to even more.
Lots of love 💕💕

You did Hun, I tried to tag you in the post, and it would not let me for some reason, but hey ho. xx

You are both happy and that is all that counts. I knew I was doing the right thing. XX

Congratulations you are a great family and I love watching the show 😁

Lovely to read your story.How many of today's young couples would work hard to achieve what you and your family have.Love your programmes.We live in a mobie home in Cookley Kidderminster Worcestershire and are both well into our eighties..xx

I know Sylvia, I am not sure people work at it any more and move on too quickly. I know that area well, my mum and dad lived in Stourport-on-Severn for many years 🙂 x

Oh my word that's brought a tear or two. Here's to the next 40 years

Bless you thank you for reading it Barbara x

Hi Sharon and Steve,
What a lovely, honest story.
We have watched your show from the very 1st. Episode.
We can see the love and fun you all have and how genuine you both are.
Good luck for the future and the growth of your business.💜💜💜

Congratulations I loved reading your story best wishes from Dublin ☘️🥂

Hi Sharon and Steve,
Thank you for sharing your beautiful story with all of us.
I myself I'm on my 3rd marriage and they say 3rd time lucky 😊, I'm sure this is true as we have been together for 25 years.
Looking forward to your next blog. Love to all ❤️❤️❤️

Oh this is such a lovely read and my eyes are not dry! My husband and I have watched you both and family grow on TV and feel you do really need your own show!
We are to celebrate our 25th in a couple of weeks and have been together since we were 16, we are now 51.
Looking forward to seeing and reading more of your inspirational blogs.
Happy Anniversary to you both and hews to many more for you. X

Aww, hope you have an amazing 25th anniversary, 🙂 Thank you for reading it x

Hi Sharon,
Such an honest story, it was meant to be. Our families said it wouldn't last as he is 15 years older than me. But 47 years later here we still are!!
Best wishes to you all x

Ohhh I had the same thing said to me Jan, that is why my dad did not turn up to give me away, but his loss. Nice to prove the all wrong ehhhh 😉 x

Congratulations to you both have a lovely day you so deserve it and sharing your lovely family with us all it's lovely to hear your story carry on for many more years to come keep smiling ❤️❤️

Lovely story thanks for sharing. It's easy to see that there is a lot of love, care, compassion and understanding and I'm sure compromise. Too many youngsters give up on marriage these days it's so easy to part. But those struggles build a deeper foundation. We were married 50yrs ago 18 august and we are still happy but like you we had our struggles but came through. Love to you all love the show xx

I agree Freda, they do give up so easy now. Belated 50th wedding anniversary to you both x

Dear Sharon & Steve,
Happy Anniversary to you both. What a lovely blog about your lives together.
I love watching the channel 4 programme and one day , I would love to come over and meet you both.
We planned to settle abroad either Spain or France. Sadly my husband died before retirement. So our dreams could not be fulfilled.
Good luck with the business and your life in Spain.
Gill x

Absolutely love you guys, today you have brought a tear to my eye with the, fun time you have to look back on, them was the good old days when everyone pulled together and helped each other out. X

Thank you for reading it Gail x

Have held back the teara reading about Pauline and your nan. I know what my nan meant to me and it pulls on the heart strings massively! A lovely story. Personally, I will never have a Porsche but my loved ones make me the richest person in the world. Take care xx

Yes, both were very special people, miss my nan every day. You are right and cars are just bits of metal, our loved ones are priceless x

Loved reading this, we had a similar wedding and still going strong after 46years, think it's because we work together when a problem occurs, xx

Thanks for reading it Patricia x

What a lovely love story Sharon. I think you have enough talent to write more… perhaps a book one day? Hubby and I have followed SS+SH since day dot. Your humour and down to earthiness make the show. Keep on going… we would miss the shows if they ever came to an end 😢 You deserve your successes xx

Thanks for your kind comments and for your support x

What a remarkable couple you are I love following your stories, you both have certainly achieved your dreams with a lot of hard work, but it's been worth it all, my love and continued success to all ,love muraxx.

Ah Sharon, what a wonderful blog. We were married 40 years yesterday. Met at work, and went on from there. Have had a wonderful marriage, Gaz is a saint for putting up with me ha ha. You have an inspirational story, and we look forward to seeing you all back on TV soon. 1983.. vintage year eh!!

Aww, Happy, 40th for yesterday Hun xx 🙂

40 years for us too this year! Love watching you even when I'm in Spain 😆 Congratulations ❤️

Congratulations to both on 40yrs we love your programme. Always record it so we never miss it we think your family is brilliant. We have been married 57yrs .I was 18yrs and hubby 19yrs.

It was lovely to read your story, you are both so inspirational and just look like the perfect couple.

What a lovely story from a lovely couple. You guys always seem so in synch. Daz and I have had 24 year's together, 18 married and everyone said it wouldnt work but here we are still going strong besides being chalk and cheese, if you work at it it works.
We love coming to your house and seeing all the animals and you guys. See you next month for sparkly windows ❤️ x

To two of the nicest people on television,
Wishing you both a very Happy Anniversary and many more to come. I just wanted to say thankyou to you and your lovely family for doing the show.
It is the one part of the day when I can put all my worries aside and for an hour you all bring a smile to mine and my husbands face. We have been watching all the series on ch4 and are re watching them again from the start. If we ever come to Almeria on holiday it would be wonderful to meet and have a coffee with you. Sharon you are always full of fun and your family are very lucky to have you. Wishing you and your family every Health, wealth and Happiness. 🥂🍾🎂🎉🥰Xxx

Great story how you got together. Congratulations on 40 years to you both xxx

What a great story . I'm sure that lovely Irish Granny of yours is looking down on you beaming with pride at the life you have built together ♥️☘️☘️

What a lovely story Hun, and now reading the rewards for all your hard work, congratulations to you both,and happy belated anniversary 🥳 you are an amazing couple and a lovely family.

Congratulations on your 40th Wedding Anniversary! Wishing you both every blessing and many many more years of happiness. 🥂